PVC or "Polyvinyl Chloride" is a type of plastic that's made of 57% chlorine. It's an eco-friendly substitute for other building materials as it requires lesser crude oil to be manufactured. Due to it's amazing durability and chemical resistance, PVC is used majorly to produce pipes and fittings across the globe. Trubore is one of the leading brands that offers world-class PVC piping systems.
Benefits of PVC pipes and fittings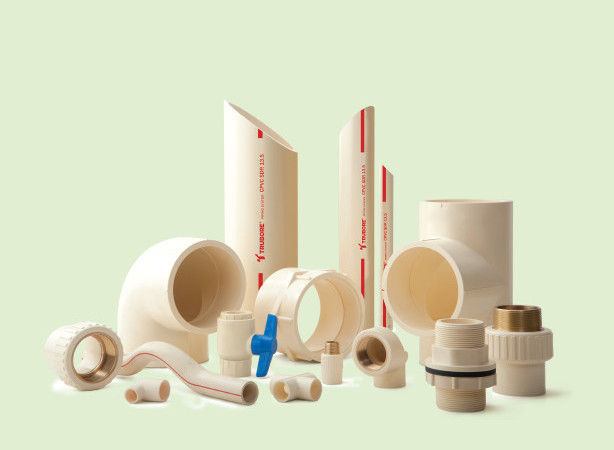 PVC pipes are made from thermal resistant material and our products offer proven hot & cold-water performance from 0℃ to 93℃.  They don't catch fire easily as they are not self-extinguishing and requires a constant source of fire for combustion. Like mentioned earlier, our piping systems and fittings are produced from eco-friendly CPVC Compounds, which means that by using them, you would be contributing towards making this world a better place to live in.
At Trubore, you will find the best CPVC pipe which is not only more cost-effective than copper and iron pipes but is also far more durable. Moreover, it doesn't take much time, effort and labour to install a PVC piping system. They are also light-weight and easy to transport. All these factors will further reduce unnecessary expenses that may be incurred.  Since these pipes don't allow bacterial growth, they are safe drinking water applications.  Another notable advantage is that PVC pipes and fittings don't get degraded even when they are exposed to sunlight for a long time as they are UV resistant.
Application of PVC pipes and fittings
Pipes used for agricultural applications are exposed to different kinds of chemicals, fertilizers and varied temperatures. This makes PVC pipes the ideal choice for irrigation supply and other such applications as they are resistant to acid and most other chemicals. This feature also makes them suitable for public utilities, industrial plants, golf course construction, chemical plants and swimming pools. Due to their thermal resistivity, Trubore Pipes also used extensively for Indoor and Outdoor use in hot & cold-water applications (From 0℃ to 93℃ only).
The easy installation process along with reduced labour and transportation costs, make them ideal for high volume pipe fittings in residential & commercial buildings. Other applications where PVC piping system plays a major role include RO & DM water plants, concealed, down take and terrace looping etc. Trubore also offers a wide range of CPVC fittings such as Ball valve, Blind flange, Coupler, Cross over moulded, Elbow, End cap, Equal tee, Four-way tee, F.t.a, Open flange, Reducer, Tank connector, Transition bush and much more!
Trubore is where you will find the best CPVC pipe for all kinds of applications. To know more about our wide range of PVC pipes and fittings, get in touch with us now!