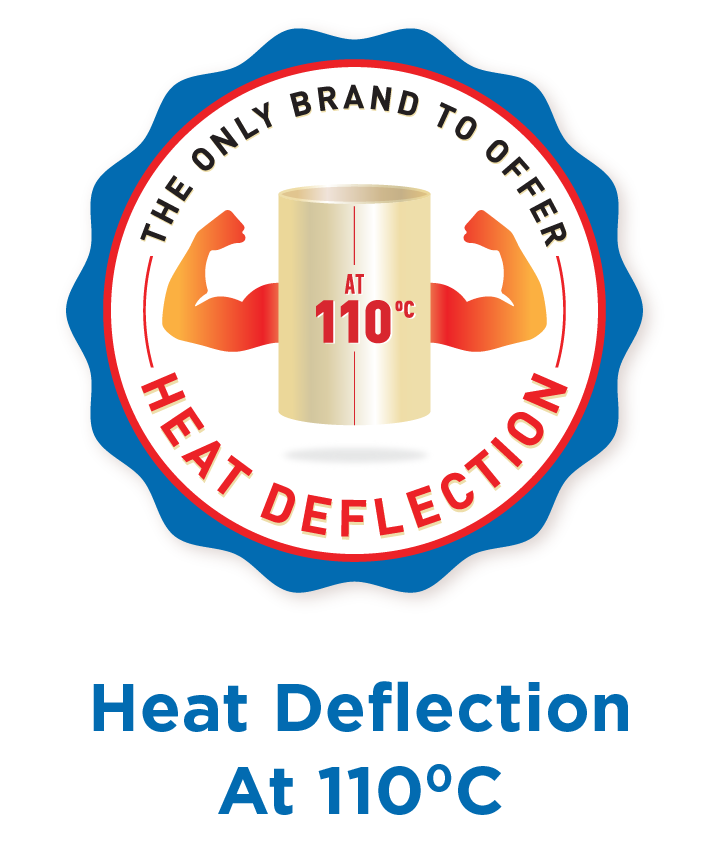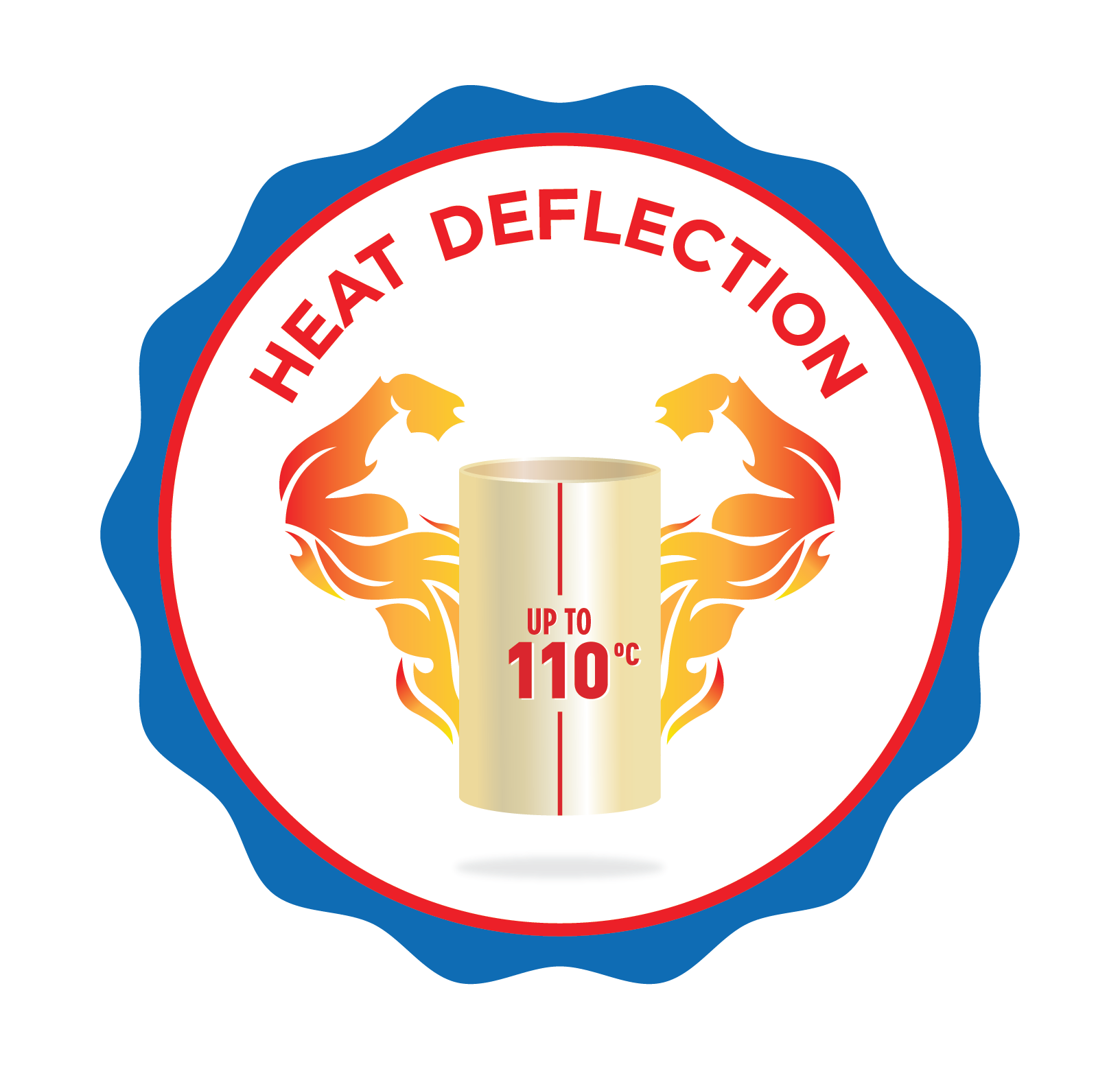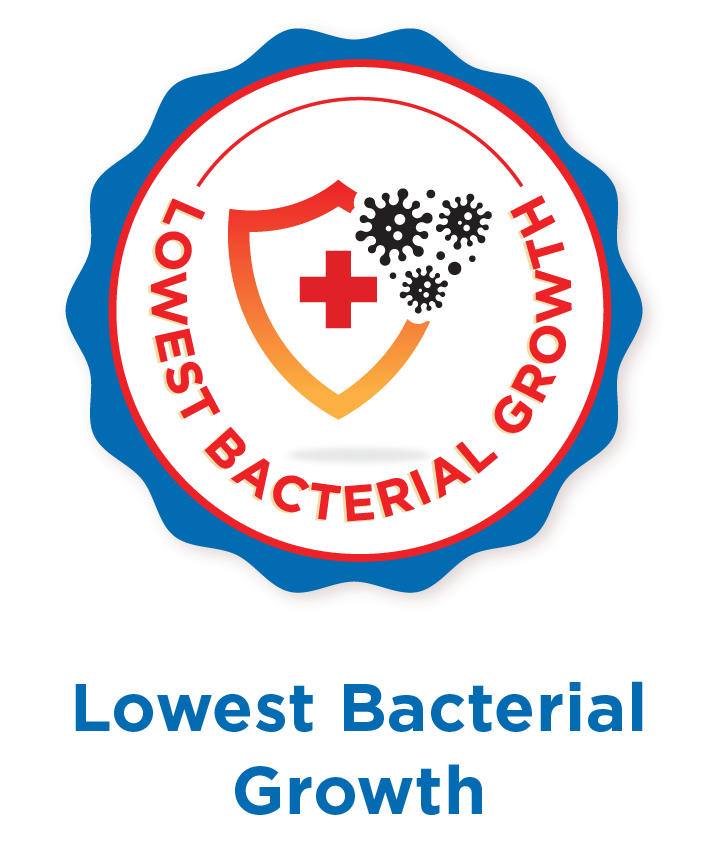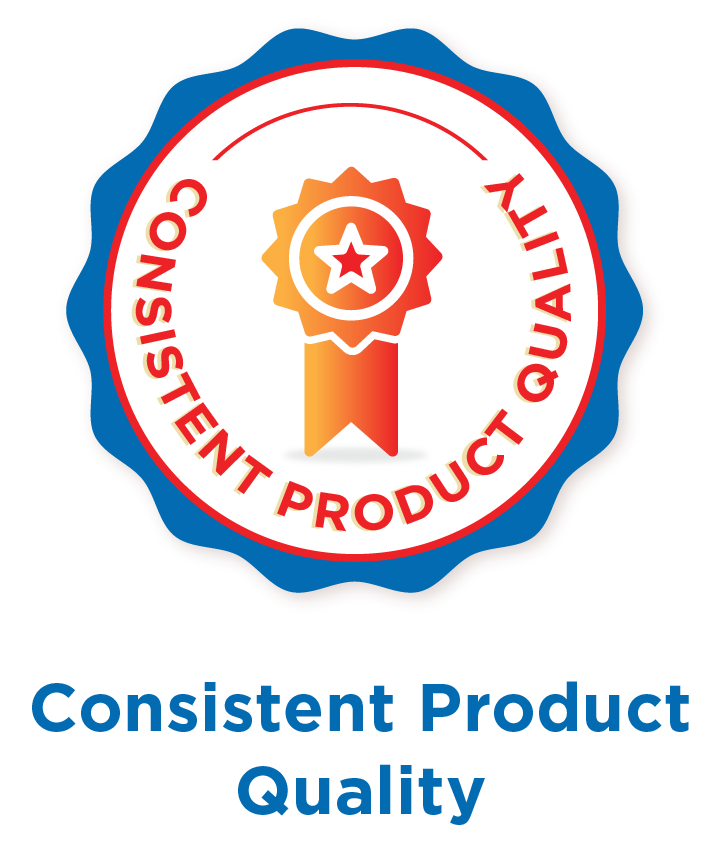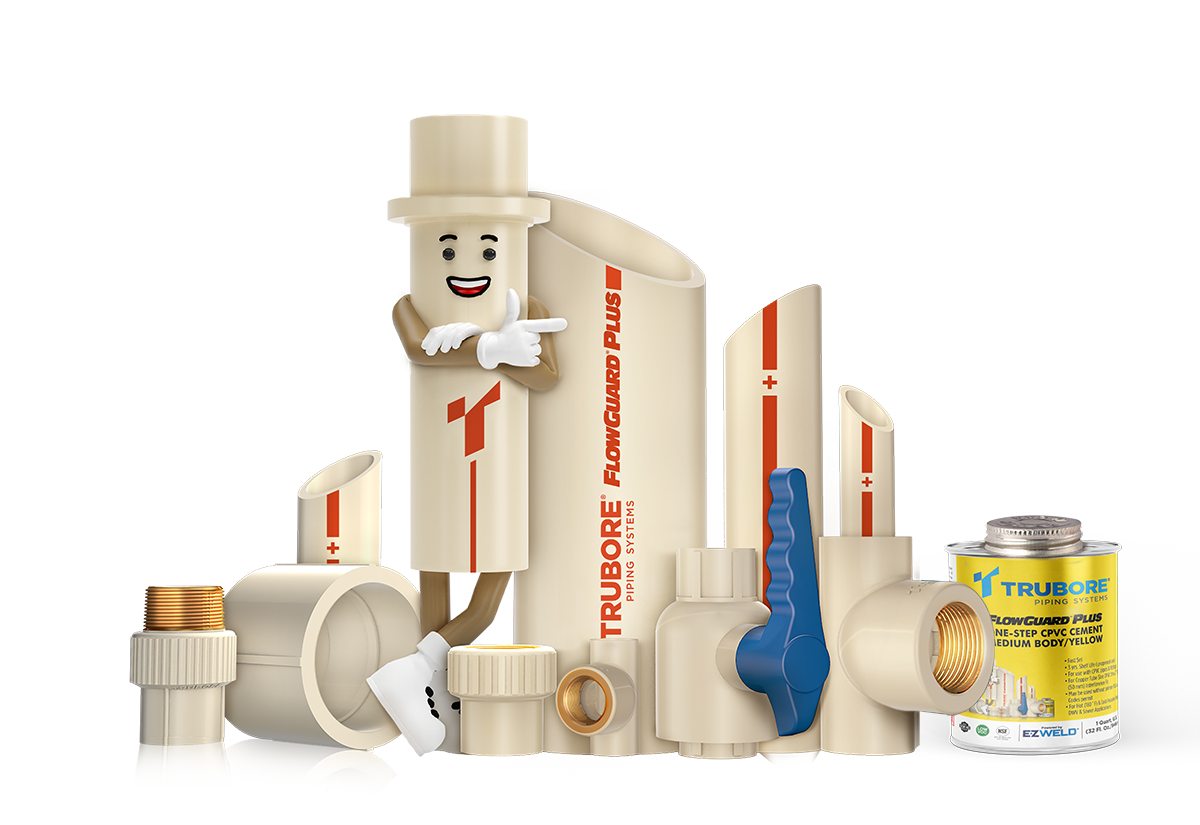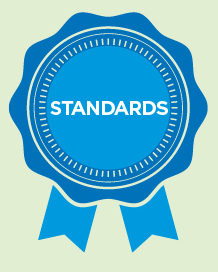 Pipes
15 to 50mm – SDR 11 & 13.5 as per IS:15778
65 to 250mm – Sch 40 & 80 as per ASTM F 441
Fittings
15 to 50mm – SDR 11 & as per ASTM D 2846
65 to 100mm – Sch 80 as per ASTM F 439
150mm – Sch 40 as per ASTM F438
FLANGE
As per ASTM D 4024 and ASME B 16.5
EXTENSIVELY USED IN
MALL

HOSPITAL

RESIDENTIAL

HOTEL
Trubore Flowguard® Plus
CPVC Plumbing Systems
Suitable for use up to 93 degree C.
25% higher pressure bearing capacity.
Low thermal expansion.
Fire retardant/resistant.
UV resistant.
High tensile and impact strength.
Corrosion resistant.
Peace of mind assured.
Solvent Joint & Threaded Joint.
Nominal Bore
Outside Diameter
SDR 11
SDR 13.5
Wall thickness
Working Pressure
Wall thickness
Working Pressure
Min
Max
Min
Max
At 27℃
At 82℃
Min
Max
At 27℃
At 82℃
(mm)
(inch)
(mm)
(mm)
(mm)
(mm)
Kg/cm2
Kg/cm2
(mm)
(mm)
Kg/cm2
Kg/cm2
15
1/2
15.80
16
1.70
2.20
28.14
6.93
1.40
1.90
22.22
5.60
20
3/4
22.10
23.30
2.00
2.50
28.14
6.93
1.70
2.20
22.22
5.60
25
1
28.50
28.70
2.60
3.10
28.14
6.93
2.10
2.60
22.22
5.60
32
1 1/4
34.80
35.00
3.20
3.70
28.14
6.93
2.60
3.10
22.22
5.60
40
1 1/2
41.20
41.40
3.80
4.30
28.14
6.93
3.10
3.60
22.22
5.60
50
2
53.90
54.10
4.90
5.50
28.14
6.93
4.00
4.60
22.22
5.60
Schedule 40
Schedule 80
(mm)
(inch)
(mm)
Min
Max
At 23℃
At 82℃
Min
Max
At 23℃
At 82℃
65
2 1/2
73.00(+/-0.18)
5.16
5.77
21.10
5.30
7.01
7.85
29.57
7.43
80
3
88.90(+/-0.20)
5.49
6.15
18.25
4.58
7.62
8.53
26.00
6.32
100
4
114.30(+/-0.23)
6.02
6.73
15.49
3.87
8.56
9.58
22.53
5.60
150
6
168.30(+/-0.28)
7.11
7.79
12.64
3.16
10.97
12.29
19.68
4.89
200
8
219.10(+/-0.38)
8.18
9.17
11.21
2.85
12.70
14.22
17.54
4.18
250
10
273.10(+/-0.28)
9.27
10.39
9.89
2.44
15.06
16.86
16.21
3.81
Note :
1. Dimensions with "+" are not a function of SDR.
2. Fittings are suitable for corresponding pipe pressure rating.Mark except 400mm .
DESIGN STAGE

Check the chemical suitability while deciding the pipeline for chemical application.Also check the threaded selants and fire stop materials for the content before recommending for use.

Consider pressure de-rating factor for use of pipeline at higher temperature.

Consider Provision for EXPANSION and CONTRACTION of piping installation.

Do not use CPVC piping system for non-recommended chemical such as polar organic solvents, anti-freezing solutions dish washing liquids etc, as mentioned in chemical resistance chart
HANDLING, TRANSPORTATION & STORAGE

Store the pipes & fittings on flat surface under covered area.
Pipes shall be stored on levelled flat forund.
Use the flat bodied vehicle for transportation of pipes.

Do not drag or drop/throw pipes while loading/unloading & shifting.
Do not overhang the pipes out of vehicle body while transporting.
Don not stack the pipes for more than 1.5 meters of height.
JOINTING & INSTALLATION

Before starting the installation,read the product manual & recommendations carefully.
Use only uPVC Solvent cement for jointing. Other types of solvent cements may contain ingredients which are not recommended.
Cut the pipe at right angle to its axis.
Before making joint,remove burr and clean the pipe surface/threads.
Rotate the pipe through a quater turn while inserting the fitting.
Clean excess solvent cement which comes out from joint.
Cure the solvent joint for 24 hours for atleast 24 hours in dry weather & 48 hours in humid weather.
Use recommended spacing while clamping the installation.
Keep atleast 200mm distance from geyser for pipline passing nearby.
In case the installation is to be painted use only latex based paints.Other paints may contain solvents which are not compatible with CPVC
In case the installation is to be insulated use only approved insulating material.
In Case of concealed pipeline,plastoring with 1:4 mortar is recommended

Do not use Solvent cement whick is gelled/not free flowing.
Do not thread SDR & SCH-40 CPVC pipes.
While solvent cementing avoid heat exposure or open flame.
Do not connect the pipe directly to the boiler/geyser.
Do not hammer the pipeline.
TESTING & COMMISSIONING

Pressure test the installation with water only.
Ensure that all waves are air relief mechanism at the end of elevations are opened.
Continue fillig until entrapped air is completely removed from installation.
Before testing ensure that all joints are cured fully.
During initial filling of pipeline,limit water velocity up to 0.3m/s for releasing the entrapped air.

Do not use air or gas for installation testing.
FAQS
Yes, it is very important for Trubore CPVC pipes which are not embedded inside the wall but are carrying hot water from boiler/solar water heater, etc. A readymade expansion loop for 9-12Ft run of the pipe, between two fixed joints. The loops are designed for a maximum & minimum differential temp of 700C. For longer lines & distance between fixes, joints and expansion loops can be made at site with calculations as per the Trubore CPVC manual or existing available loops can be used after every 12ft length of pipe.
The installation may be supported with the help of pre-drilled 15mm thick plywood piece, 6" long by 2" wide. Once the Trubore CPVC pipe is fixed in the chasing, it may be supported by fixing the plywood pieces over the pipe & the chasing. Only 3 to 4 such supports may be needed in one toilet/bathroom installation. During installation it is best to avoid contact between pipe & nails. Properly align and firmly grout all threaded fittings inside the chasing with strong mix of cement and sand. Pipe line ends or elbows be laid at least 2.5cms inside the wall surface.
Many plumbing codes contain detailed requirements for connection to gas or electric storage type water heaters. Determine whether your code has such requirements and satisfy them. Trubore CPVC pipes can be piped to the electric water heaters with special metals to CPVC transition fitting. For wall mounted electrical geyser connection always keep the inlet valve open & use flexible plastic hose pipe to connect geyser inlet to Trubore CPVC plumbing system. On gas water heater there should be at least 6 inches of clearance between exhaust pipe and Trubore CPVC plumbing system. 12-inch-long metal nipple or appliance connector should be connected directly to the heater so that Trubore CPVC pipes is not damaged by the built up of excessive radiant heat from the flue. An approved temperature/pressure (T/P) relief valve should be installed so that the probe or sensing element is in the water at the top of the heater. Trubore CPVC pipe is used as relief valve drain line piping. Use a metal to Trubore CPVC transition fitting to connect to the relief valve and continue the pipe full size to the outlet. For horizontal runs, slope the pipe towards the outlet and support it at 3 feet distance. The pipe must discharge to the atmosphere at an approved location. Don't use Trubore CPVC plumbing system with commercial type, non-storage water heaters.
It is strictly advised to use Trubore CPVC plumbing system in all internal plumbing for both hot and cold-water line. There has been instances of the non-return valve failure or pressure differential in hot and cold-water line due to which hot water has entered in cold line. If the cold-water line pipe is not temperature resistant, it will lead to leakage or bursting causing huge loss and inconvenience to the customer.
Yes, the compound used for manufacturing Trubore CPVC Pipes is UV protected. Trubore confirms that there is no deterioration in pressure withstanding capacity when installed under the sunlight, even after several years of installation. To give extra protection from direct harsh sunlight, an elastomeric water-soluble paint may be used to coat over the pipes & fittings in 2 layers to give best result.
Trubore CPVC plumbing system is a very bad conductor of heat. Light insulation is recommended only for installations where there is a continuous flow of hot water ex: solar/centralised heaters. Thermal conductivity of Trubore CPVC pipes is 0.14 w/mk. In bathrooms within 3 meters location insulation may not be necessary.
Trubore CPVC plumbing system is prone to damage & punctures due to drilling/hammering or chiselling after concealing like any other polymer pipes. Such accidents can be avoided by giving piping route/layout diagrams and proper instruction to the customers like tilling, carpentry and electrician teams.
Repair of punctured pipe due to drilling/chiselling can be done by removing the cement plaster and using the Trubore CPVC pipe repair tool supplied by the company. The area of the pipe damaged should be cleaned thoroughly making it dry completely. Apply Trubore CPVC solvent cement on surface of pipe at damaged portion in entire circumference. Also apply solvent cement on the inner surface of the cpvc pipe repair piece & snap on your damaged area. Tie a small piece of string / binding wire around the piece and pipe for some time and allow to set. This is a unique system available with Trubore CPVC pipes where the damaged pipe need not be cut or shifted back & forth for repair. Pressure test needs to be done before re-plastering. .