In today's age, industrialization and rapid urbanization has resulted in global warming which in turn has led to climate change. This change has not just been seen in polar regions however it can also be seen in draught affected areas. In such times, finding the source of water becomes essential for life to progress. In such cases, Borewell/Tubewells are built to extract water from ground for usable purposes.
Trubore brings to you Borewell Piping System which comprises of Casing Pipes, Ribbed Screen pipes, Plain Screen Pipes and Column pipes. Let us first understand – column pipes in detail.
These pipes help in extracting water from the ground and are directly connected to a Submersible Pump. They are strong and durable enough to reach a maximum depth of 1450ft (45kg pressure). To efficiently handle the torque generated by the constant switching Off/On; of the submersible pump, Trubore has provided a Circlip Lock which strengthens the bond of pipe with the coupler. This circlip ring is made with stainless steel material and provides additional grip which is essential for a long life. Column Pipes are also known by 2 other names in the market – Rising Main Pipe & Submersible Delivery Pipe.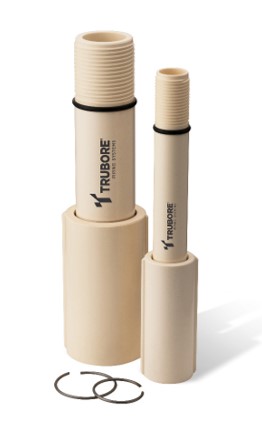 Trubore's Product Range for Column Pipe / Rising Main Pipe / Submersible Delivery Pipe:
V4 Pipes: 1″ – 1½"
Medium Duty Pipes: 1″ – 4″
Standard Duty Pipes: 1″ – 4″
Heavy Duty Pipes: 1¼" – 4″
Standards:
Now let's go through some basic advantages of Column pipes which makes it a preferred choice of farmers, borers etc for extracting groundwater.
Square Threads: As these pipes are connected to the submersible pump they are under constant pressure. To avoid slippage, these pipes have square threads which provide excellent grip which is necessary for keeping the pipes together.
Circlip Lock: In addition to the square threads, Trubore has gone one step ahead and have provided Circlip locking system. It provides an additional safety to the threads to handle the constant pressure generated by the switch on/off of the submersible pump. This ensures that the bond between the coupler and the pipe is everlasting.
Leak Proof: To further avoid leakage from the pipes, column pipes column pipes are provided with rubber rings at both the ends of the square threads which ensure no scope of leakage
Smooth inner surface: The inner surface of column pipe is smooth which ensures water flow is without any interruptions and avoids the possibility of clogging inside the system.
Easy to install: Column pipes are lightweight and with the help of square threads, they are easy to install.
Inert to chemicals: Earth is prone to contain various chemicals which can be corrosive in nature. As these pipes are made of Unplasticized polyvinyl chloride material, they do not react with any chemical if it comes in contact.
Long Life: With all the above advantages, Column pipes provide a longer operational life and thus minimizes maintenance costs.
All in all, there are many reasons why you should switch to Trubore's Column Pipes. Keep your eye on this spot, to know more about Trubore's Borewell Piping Systems.
---