We all dream of a home where we have the comforts and facilities leading to a happy and healthy life. For that an efficient drainage system is what you need, which ensures that the waste water is smoothly flown out to keep your surroundings clean. In our previous blog, we spoke about what are foamcore piping systems and the types of thickness the pipes are available in. Today, we shall tell you about the types of joints that are available along with its range.
When you are building an underground drainage network, it is essential to understand the dynamics of the area where the pipes are going to be laid. As these pipes are available in 2 types namely, rubber ring (RR) and solvent cement joints (SJ). Both joints have their own advantages. Rubber Ring is fast and demountable, whereas as Solvent Joint is permanent. Solvent Joint pipes should be used in areas where there is possibility of continuous heavy loads on the pipes.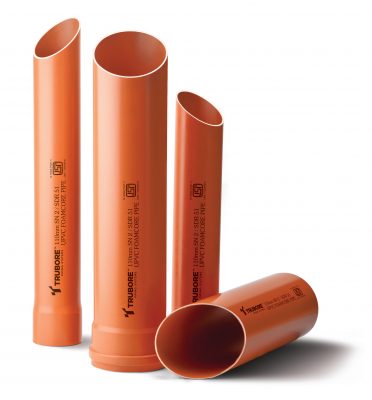 Trubore foamcore pipes are available from 110mm to 315mm sizes. They are also provided in 2 types of lengths – 3metre and 6 metre. An underground drainage system should be built in such a way that it remains out of sight and does not emit a foul odour. Foamcore Pipes are installed in residential and commercial spaces where sewage control is vital.
Let's have a look at the advantages of an Underground Drainage System:
Lighter in weight and easy to install
Unlike cement or cast-iron or clay drainage pipes that are too heavy to carry, Foamcore Pipes are light in weight and does not require heavy machines for installation or transportation. It takes less effort to install and at the same ensures quicker installation.
Good Drainage Network
As these pipes are made from PVC material, they are long lasting and are rust-proof. Its smooth bore allows free flow of waste water and avoids choke ups.
Minimizes leakage due to lesser joints
The length of Foamcore Pipes Foamcore Pipes plays an important role in its efficiency. As we have already informed you about the length they are provided in, these pipes require lesser joints in comparison to other material drainage pipes. Fewer the number of joints, reduces the chance of leakage.
Load bearing capacity:
As by now you know that the outer and inner layer of the pipe provide load bearing capacity while the middle foam layer gives firmness to the overall pipe structure. These pipes have an inbuilt ibeam structure which comes into play when the pipe comes under heavy load stress, Foamcore pipes due to the foam layer gains the structural load shape and regains its normal shape once the load is off it.
So, the next time you're planning to build an efficient drainage network, choose Trubore Foamcore Piping Systems for all the above right reasons.
---