Today's pipes for extracting water from borewell – Trubore Borewell Piping System.
In India, we have seen a remarkable change in the plumbing solutions. Unlike earlier times, we have pipes for every purpose. The change in piping solutions is also a major reason for agriculture flourishing in India. Agricultural pipes and bore well pipes have made it easier for farmers to easily transport water to their crops.
Today farmers are not dependent on just rainy season for water, today with the help of borewell pipes water can be extracted from ground. For this, Submersible pumps are used to take water out of underground streams by the use of borewell pipes. Borewell Piping Systems is comprised of plain screen pipes, ribbed screen pipes, casing pipes and column pipes. The numbers of pipes used during installation depends on the depth of the bore. The type of screen pipes used depends on the condition of the underground soil.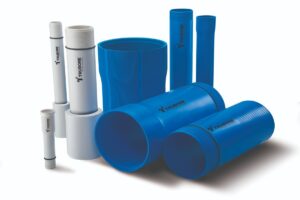 Column pipes are directly connected to the submersible pipes which help extracting the water. The plain screen and ribbed screen pipes allow water to percolate inside the system. They are installed where there is ample amount of water detected beneath the ground. Also, as they are installed around the column, they help in protecting the bore as well. Casing pipes are generally installed to protect the bore as well as help in collecting the water around the submersible pump. This water is then pumped out of the system for various purposes.
Trubore manufactures all the above-mentioned types of pipes. Now, Let's have a look at the advantages Trubore Borewell piping system:
Light weight:
As these pipes are made from uPVC material, they are lightweight. Due to this feature, it becomes very easy to transport it via light weight vehicles, depending on the number of pipes to be transported at a time. Additionally, while installing also it becomes easy to handle which helps in quicker as well as safer installation process.
Cost effective:
Multiple features of these pipe lead in saving costs. Primarily it being made of uPVC material, it is cheaper than most other material pipes available in market. Due to lightweight and quicker installation process, it becomes more cost effective.
Leakage free:
Trubore borewell pipes are manufactured with precision. Each pipes have square threads, which ensure that the pipes remain firmly gripped together for a longer period of time. Furthermore to prevent any sort of leakage they are provided with rubber rings that help is sealing the system together, making it leak free.
Corrosion resistant:
uPVC material if resistant to most of the chemicals. Since our pipes are made of the same material, it naturally makes them chemical as well as corrosion resistant.
Less Friction:
As mentioned above, since Trubore Borewell Pipes are corrosion resistant, thereby no scaling occurs inside the system. Moreover, these pipes have smooth inner surface, which makes the water flow from the system without any hindrance.
All these above points make the Trubore Borewell Piping system a reliable system. For a leak free and long life borewell pipes installation, trust only Trubore.