Choose the right Agricultural Piping System, Choose Trubore.
Water is one of the most essential requirements in the agriculture sector. Just like we need food to survive, the production of healthy crops depends on the availability of water. The vital criteria for ensuring proper water supply to crops, is an effective irrigation system. And, for an irrigation system to function properly, high-quality agricultural pipes and fittings are required.
Choosing the right type of agricultural pipes is critical because agricultural irrigation pipes are installed according to the needs of the crop which is being grown in the farm. Be it is a centre pivot, hand-moved sprinkler, trickle, and drip, or solid-set sprinklers, they only function better if there is a continuous flow of water.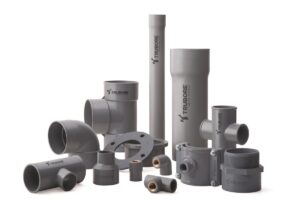 In our previous blog, we spoke about our agricultural irrigation pipes and how they are a boon for farmers. Now we will tell you about the benefits of using our Trubore Agricultural piping systems:
Benefits of using Trubore Agricultural Piping System:
Pipes as per pressure Kg/cm2: This is the most essential feature of Trubore Agricultural piping systems, as it offers its customers to make the right choice by offering pipes in classes of 2.5 Kg/cm2, 4 Kg/cm2, 6 Kg/cm2, 8 Kg/cm2, 10 Kg/cm2 & 12.5 Kg/cm2. This means that the right type of pipe can be installed where there is more pressure and a lighter pressure pipe can be installed where there is no pressure.
Wide range: In addition to the above-mentioned class of pipes, Trubore offers pipes ranging from 20mm to 400mm & fittings from 20mm to 315mm for installation. This means that a right combination of pipes and fittings can be installed for an uninterrupted flow of water
Long pipes, Lesser Joints: Trubore provides pipes in long lengths of 3mtr & 6mtre. This means that Lesser number of joints are required for transporting water from the source the area of requirement. Leakage generally occurs at the joints. So in this case, since there are lesser joints, every drop of water is saved.
Solvent Joints: In additional to long length pipes, Trubore Agricultural pipes and fittings have solvent joints. This means that once the pipes and fittings are joined together with the help of solvent, and hence it becomes a permanent joint. Once joined together, no amount of force can separate the pipe and fitting to separate.
Cost Effective: Because of all the above-mentioned reasons and availability of choice, a customer can make an effective choice in getting an efficiently functional long life system like Trubore Agricultural piping system at the best cost possible.
Agriculture will flourish in India, if everyone decides to efficiently utilize the pipes and fittings available which helps in transporting water efficiently. So when it comes to choosing agricultural pipes for your farm, it is critical to choose the best. Trubore's agricultural piping solutions are made to transform your farms with its superior piping systems. Make an ideal choice and see the visible results in your farms.